Regular price
$449.99 USD
Regular price
$0.00 USD
Sale price
$449.99 USD
Unit price
per
Sale
Sold out
IWOM Pursuit XT Adaptive Hunting Suit Description

IWOM Pursuit XT Adaptive Hunting Suit Description

The IWOM Pursuit XT Adaptive Hunting Suit is a game-changer for disabled hunters, designed to empower you in all weather conditions, from temperatures ranging from 40°F above to well below zero. Whether you're in a wheelchair or utilizing a Trackchair, this one-piece full-body suit is meticulously crafted to enhance your hunting experience, providing unmatched protection and convenience.

Unrivaled Adaptability: Engineered with the unique needs of disabled hunters in mind, the IWOM Pursuit XT suit offers exceptional adaptability. Its innovative design allows for effortless donning and doffing, opening completely from top to bottom, ensuring easy access for transferring into the hunting suit. No matter your mobility limitations, this suit enables you to prepare for your hunting expedition quickly and efficiently.

Optimal Storage and Portability: The IWOM Pursuit XT suit doesn't just prioritize functionality; it also offers excellent storage options. It rolls into a self-contained stretch pouch, providing convenient packing and storage capabilities. Furthermore, the stretch pouch offers additional storage for your small gear items, ensuring you have everything you need within reach during your hunting adventures.

Unmatched Heat Retention and Scent Control: When sealed up in the IWOM Pursuit XT suit, you'll experience the ultimate outdoor advantage. Acting like a heater suit, it not only traps your body heat, keeping you warm and comfortable throughout the day but also contains your scent. This invaluable feature gives you an edge in the field by minimizing your scent signature and increasing your chances of a successful hunt.

Supreme Protection and Comfort: The IWOM Pursuit XT suit offers unrivaled protection from the elements. Crafted with top-quality materials, it shields you from harsh weather conditions, ensuring you stay dry and comfortable even in extreme environments. This suit's advanced construction provides all-day protection, allowing you to focus on your hunting pursuits without distraction.

With the IWOM Pursuit XT Adaptive Hunting Suit, disabled hunters gain a reliable and versatile companion that revolutionizes their hunting experience. From its adaptive design and optimal storage capabilities to its exceptional heat retention and scent control features, this suit is your gateway to thrilling and successful hunts. Take charge of your hunting adventures with the IWOM Pursuit XT and discover a new level of freedom, comfort, and confidence in the great outdoors.
Features

IWOM PURSUIT XT FEATURES

Waterproof
Windproof
Easy Access Top to Bottom Full Body Enclosure 
Rubberized Zippers and Heat Sealed Seams
Built in Self Contained Carry Bag
Hand Muff / Hand Warmer Pocket

Silver Antimicrobial Scent Management 
Rain Hood
Fleece Lining
Large Kangaroo Pocket
Built in Facemask
Breathable
Materials / Specs

Temp Rated 40°F above to well below zero.
Weight: approx 7-8lbs (depending on your size)
100% Waterproof when rain hood is engaged.
100% Windproof
Shell: 100% Polyester Microfiber Brushed Tricot 240g/m2
Lamination: 8,000/800
Lining: 100% Polyester Microfiber Fleece 130g/m2
Premium 3M Thinsulate Insulation (G):120g (Arms) /150g (Body)

Shipping & Returns

PROCESSING AND DELIVERY TIMES

All orders are processed within 1 business day with proper size selection. Standard shipping typically takes between 2-8 business day for destinations within the United States. If we are experiencing a high volume of orders, shipments may be delayed by a day. Additionally, nationwide and global shipping delays (such as those caused by holiday volumes, or inclement weather) may impact your estimated delivery date.

Tracking your order once your order has shipped.

You will receive an email with a tracking number to track your order via FedEx or UPS. Once you receive your tracking number, please allow up to 48 hours for the tracking portal to update.

CUSTOMS FEES AND IMPORT TAXES

IWOM Outerwear is not responsible for any customs or import fees you may incur during or after shipping (tariffs, taxes, VAT, etc.).

Return Policy

IWOM Outerwear LLC offers a 90 day money back guarantee on online purchases. Special ordered items are not eligible for returns unless they have a manufacturer's defect. Shipping costs are non-refundable and return shipping fees are the responsibility of the customer.
Care Instructions

Care & Washing Instructions

When washing your IWOM Hunting Suit, first open all of the zippers so that is allows water to flow through it and not get trapped. Remove the fleece lined hand warmer insert by detaching the Velcro in the inside of the cuff opening. Turn XT inside out so that the inner lining that was closest to your body is exposed. For the wash settings be sure to use gentle option with cold water. Hang air drying is recommended. Hang the XT inside out for one day, then turn XT camo side out for the second day of drying. At the end of the second day reinstall the hand warmer insert by first turning the cuffs inside out. Insert the fleece muff with the U shape down. Align the Velcro strips accordingly so that the hook and loop side are flat and not bunched up at all. Turn cuff right side out. If you require a quicker drying method place the XT in the dryer on the gentle setting to make sure that the suit isn't getting unwanted heat applied to the XT's rubber zippers, waterproof/windproof membrane and heat sealed taped seams. That could damage the waterproofing and void your warranty. 
Satisfaction Guarantee & Warranty

Satisfaction Guarantee

IWOM has a 100% satisfaction, 90 Day Money Back Guarantee.

If your IWOM product is defective, we kindly ask you to contact the
store where you purchased it. Please remember to bring a valid receipt
or any other proof of purchase.

If your product fails due to a manufacturing or material defect, we
will of course repair the item or replace it within the warranty period.

Damages or faults such as rips, tears, burns and holes are not
covered under the terms of our warranty policy. In some cases, you can
repair damages caused by normal wear and tear yourself.

Please do not hesitate to get in touch with IWOM Outerwear  for further information about your product guarantee.

Warranty

IWOM Outerwear warrants to the original purchaser, with proof of
purchase, that its delivered products shall be free from defects in
material and workmanship under normal use for a period of 1 year.
View full details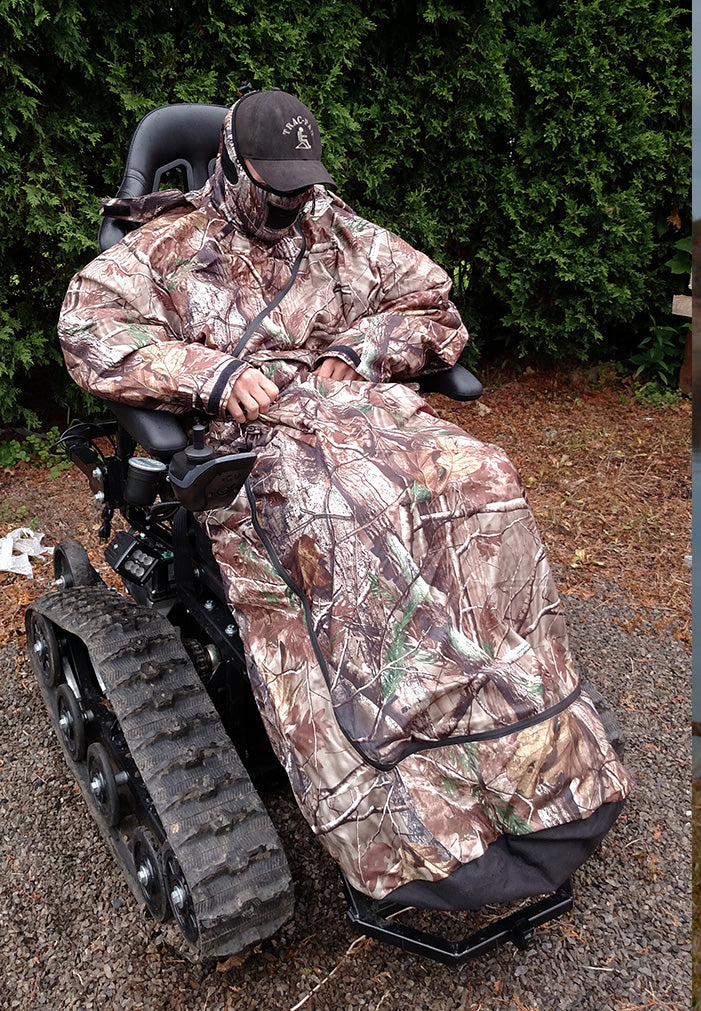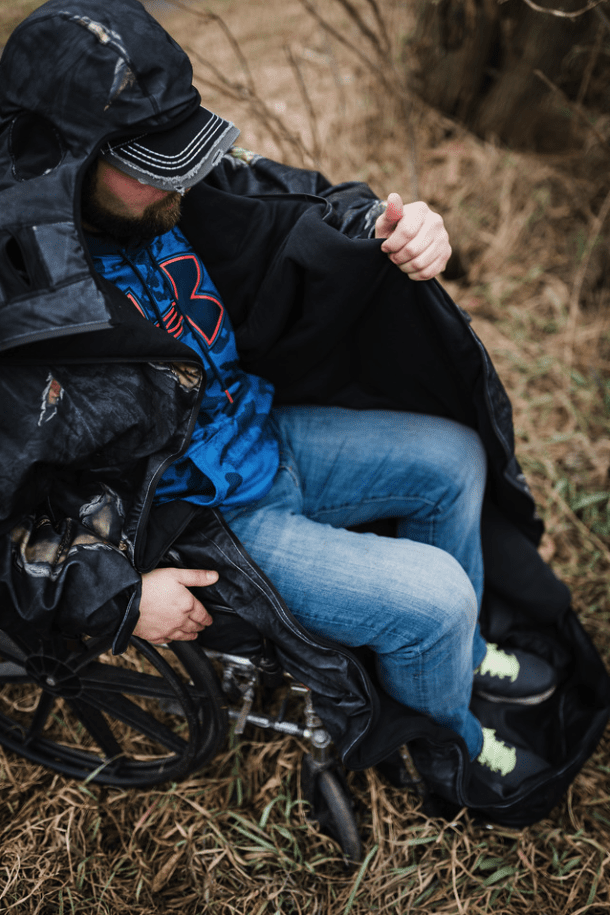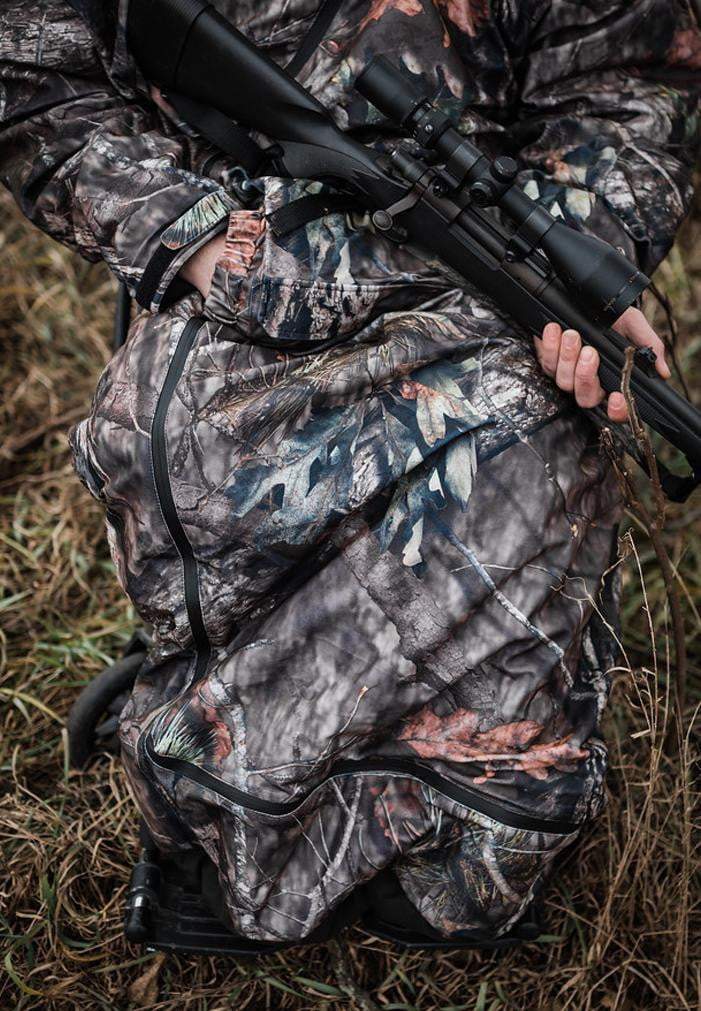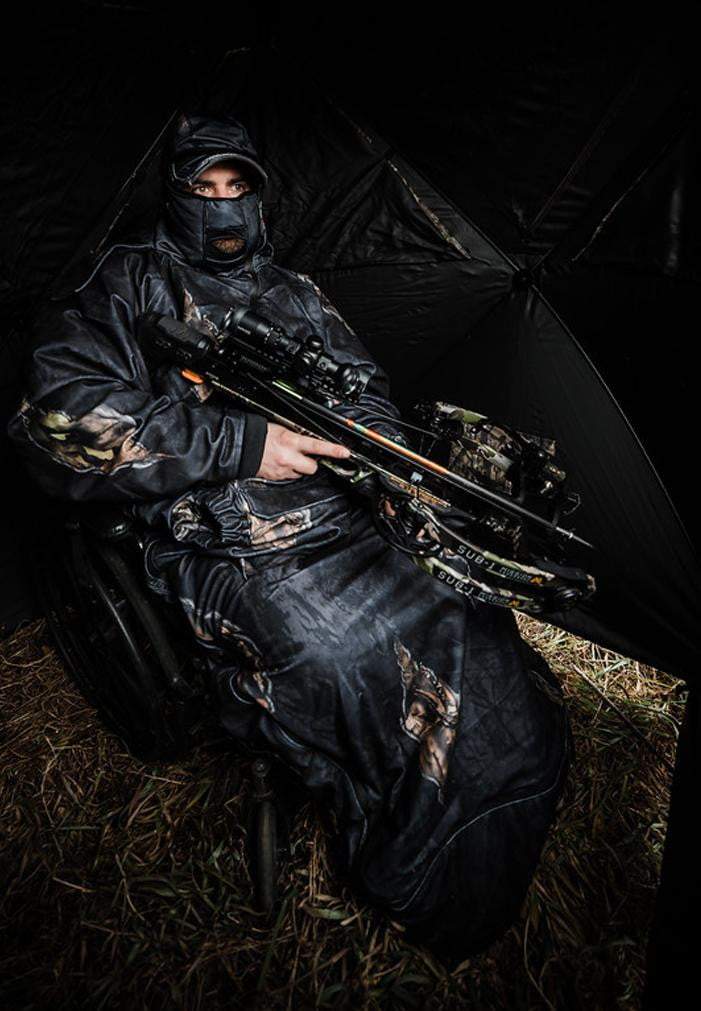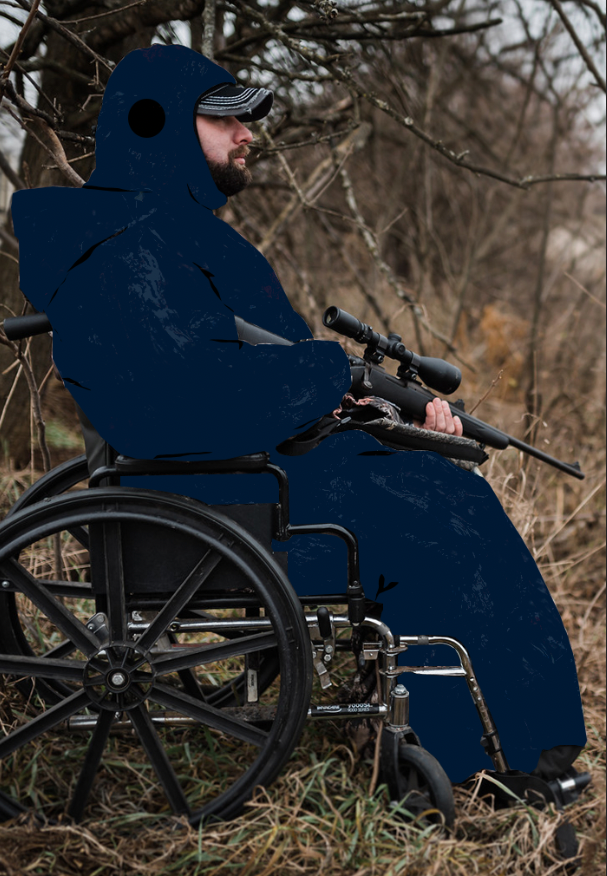 EASY ACCESS FOR ADAPTIVE HUNTERS
The IWOM Adaptive Pursuit XT Hunting Suit features an innovative curved zipper design that extends from top to bottom, providing users with effortless access when putting on the suit in a wheelchair or trackchair. Not only is this great for wheelchair users, it is also another option for ground blind hunters with shoulder injuries that allows the suit to be put on with out aggravating any of your joints.
WATERPROOF AND WINDPROOF
The IWOM Adaptive Pursuit XT Hunting Suit offers exceptional protection for adaptive wheelchair users, as it is both 100% waterproof and windproof. Every zipper on the IWOM suit is equipped with a rubberized design, and the seams are heat-sealed to ensure complete weather resistance. This ensures that you stay comfortably shielded from the elements throughout your entire day of hunting, regardless of whatever challenges Mother Nature may present.
TOTAL HEAT AND SCENT CONTAINMENT
For adaptive wheelchair hunters seeking the pinnacle of hunting clothing and gear, the IWOM is a game-changer. This innovative wheelchair coat revolutionizes your hunting experience by eliminating traditional heat and scent release points found in jackets and pants.
With the IWOM, there's no need to worry about heat escaping from your head area, thanks to the chest zipper that extends up to your cheek. The wrist gaiters at the sleeve ends ensure that precious warmth stays within, preventing it from escaping through the sleeves. Say goodbye to the traditional jacket and pant overlap at the waist area; it's completely eliminated in the IWOM design. To top it off, your feet are completely enclosed, creating the ultimate scent and heat containment system for your cold weather hunting needs.