90 Day
Money-back guarantee
20,000
IWOM Users in the Field
The IWOM XT Hunting System is 100% waterproof and windproof. The IWOM's outer layer is a 100% Polyester Microfiber brushed tricot with all zippers being rubberized and seams heat sealed for maximum performance.
100% Satisfaction Guarantee
All of our hunting systems come with a 90 day satisfaction guarantee that lets you take the suit out and run it through your tests to make sure it is something that you are 100% happy with and to ensure you are in the best fit possible.
Hunting in the elements can be quite challenging and ruin the experience.
#upgradetoIWOM
The IWOM XT Hunting System keeps you warm and dry in all conditions from 40 degrees above
to -40 degrees below zero.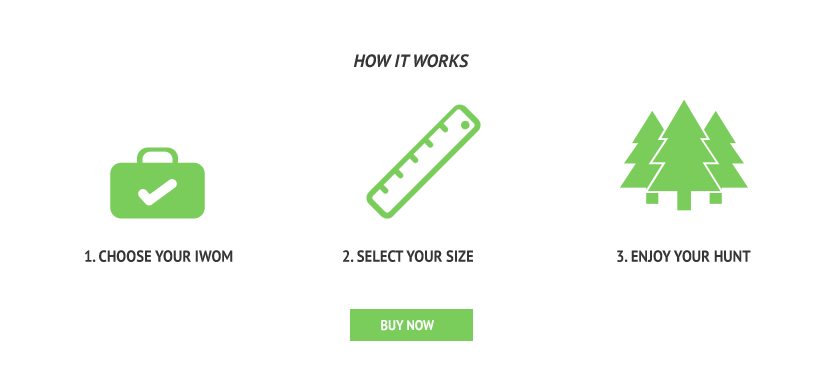 "I bought an IWOM suit this year before whitetail hunting in Illinois. I had borrowed a suit from a friend a couple years before so I knew the advantage it gave me to stay in. That week temps were -10 wind chill. The suit definitely allowed me to hunt. This year temps were in the 20s with lows around 8 degrees. My new suit worked really well and helped me harvest a nice 11 pointer with my bow. Love the suit."
Derek Jones - 4 Dec 2018
"I hit the blind today with my fall bow set up and the IWOM suit overtop. The temp was about 14 degrees and the wind knocked it down to 2 degrees. I was toasty the entire afternoon sit!!!
The suit is all it's cracked up to be."
Louis Hornberger - 31 Dec 2017
"I couldn't believe how much I loved the suit and how comfortable I was! I have told all my friends about this and would recommend IWOM to any hunter."
Brad Evans - 2 Dec 2018