Regular price
$149.99 USD
Regular price
$249.99 USD
Sale price
$149.99 USD
Unit price
per
Sale
Sold out
IWOM Convertible Jacket 2.5 Description

IWOM Convertible Jacket 2.5 Product Description

We've taken your feedback to heart and made significant enhancements to bring you an exceptional outdoor garment that goes above and beyond. Get ready for an unparalleled experience with our updated design, crafted to prioritize your comfort, convenience, and style.

With improved sizing and zipper length, accessing the jacket is now a breeze, allowing you to effortlessly slip it on and off whenever you need. We've even added cozy fleece to the hand-warmer, ensuring your hands stay toasty warm even in the coldest of conditions. Say goodbye to numb fingers and hello to ultimate coziness!

But that's not all. The IWOM Convertible Jacket 2.5 isn't just for battling the elements; it also doubles as a versatile beach changing robe! No more struggling to change discreetly or exposing yourself to chilly winds. With its ingenious design, this jacket effortlessly transforms into a comfortable changing robe, providing you with privacy and protection while you transition from beachwear to dry clothing. Enjoy the convenience and confidence you deserve!

Imagine never again enduring the discomfort of sitting through a sporting event in miserable weather or struggling to change at the beach. The IWOM Convertible Jacket 2.5 is here to rescue you from the cold, wet, and awkwardness, becoming your loyal companion for any outdoor activity.

Designed to adapt seamlessly to changing weather conditions, this waterproof wonder transitions effortlessly from a self-contained carry bag to a reliable rain jacket. It goes even further by transforming into full body containment mode, shielding you from the harshest winds and downpours while effectively retaining your precious body heat. No more shivering or getting soaked through!

Versatility is at the heart of the IWOM Convertible Jacket 2.5. Whether you're cheering for your favorite team, camping in the wilderness, casting a line while fishing, embarking on a thrilling hike, walking your furry companion, or needing a convenient changing robe at the beach, this jacket is your ultimate companion. It's also perfect for athletes on the sideline, providing much-needed warmth and protection while they await their turn to shine.

We are so confident in the performance of our product that we guarantee your satisfaction and comfort. No more compromising on quality or enduring uncomfortable experiences. The IWOM Convertible Jacket 2.5 is here to elevate your outdoor adventures and beach outings to new heights.

And let's not forget about its stylish design. Our Standard Fit ensures that you can easily layer the jacket for maximum versatility without sacrificing fashion. You'll be the envy of all with this sleek, practical, and multipurpose attire.

Don't let unpredictable weather or changing at the beach be a hassle anymore. Embrace the IWOM Convertible Jacket 2.5, your personal weather warrior and beach changing robe, and conquer the elements and awkwardness with confidence. Order yours today and experience the difference for yourself!
Materials

Shell: 100% Polyester with PU coated windproof/waterproof fabric190g/m2 in a solid color
Lining: 100% Polyester tricot 110g/m2
Fully Taped Sewn Seams
Die-cut Rubberized Zippers
Shipping & Returns

PROCESSING AND DELIVERY TIMES

All orders are processed within 1 business day with proper size selection. Standard shipping typically takes between 2-8 business day for destinations within the United States. If we are experiencing a high volume of orders, shipments may be delayed by a day. Additionally, nationwide and global shipping delays (such as those caused by holiday volumes, or inclement weather) may impact your estimated delivery date.

Tracking your order once your order has shipped.

You will receive an email with a tracking number to track your order via FedEx or UPS. Once you receive your tracking number, please allow up to 48 hours for the tracking portal to update.

CUSTOMS FEES AND IMPORT TAXES

IWOM Outerwear is not responsible for any customs or import fees you may incur during or after shipping (tariffs, taxes, VAT, etc.).

Return Policy

IWOM Outerwear LLC offers a 90 day money back guarantee on online purchases. Special ordered items are not eligible for returns unless they have a manufacturer's defect. Shipping costs are non-refundable and return shipping fees are the responsibility of the customer.
Care Instructions

Care & Washing Instructions

For the wash settings be sure to use gentle option with cold water. Hang air drying is recommended. Make sure that the jacket isn't getting unwanted heat applied to the rubber zippers, waterproof/windproof membrane and heat sealed taped seams. That could damage the waterproofing and void your warranty. 
Features

100% Waterproof
100% Windproof
Rubberized Zippers (Waterproofing)
Taped Seams  (Waterproofing)    
Hand Warmer Pocket
Freedom Waist Belt for off-shoulder wear 
Rain Hood
Self contained fanny pack (Rolls into itself for easy storage or fanny pack wear/ or seat cushion)
Elastic Bottom for Perfect amount of stretch for walking and the perfect amount of hold for when the bottom leg coverage is held up and hidden when you don't need it.
View full details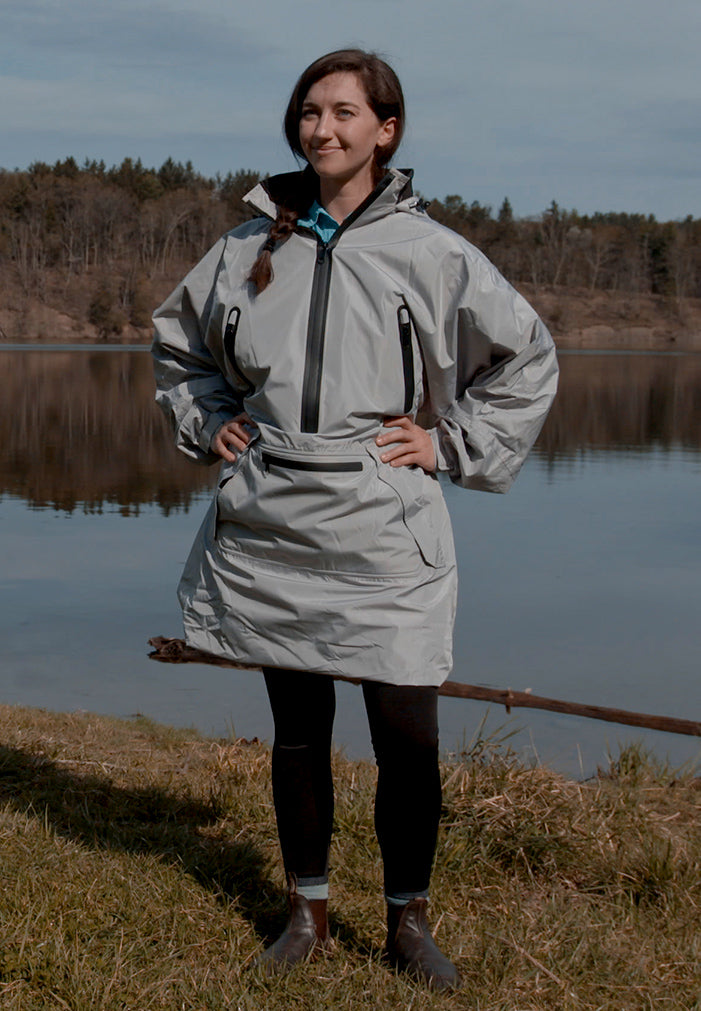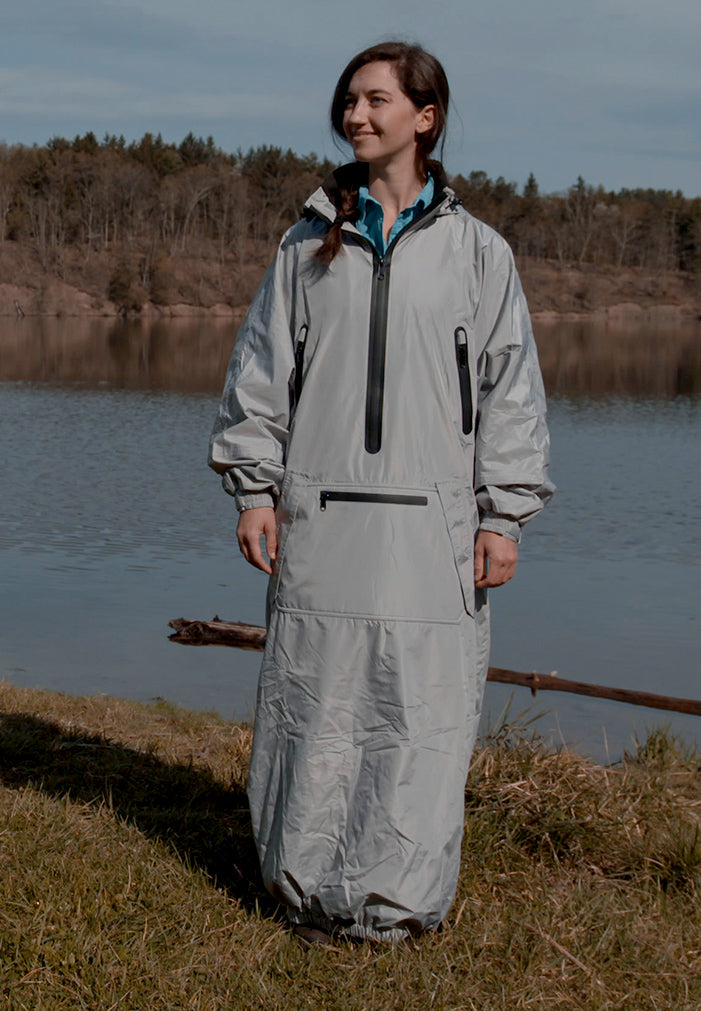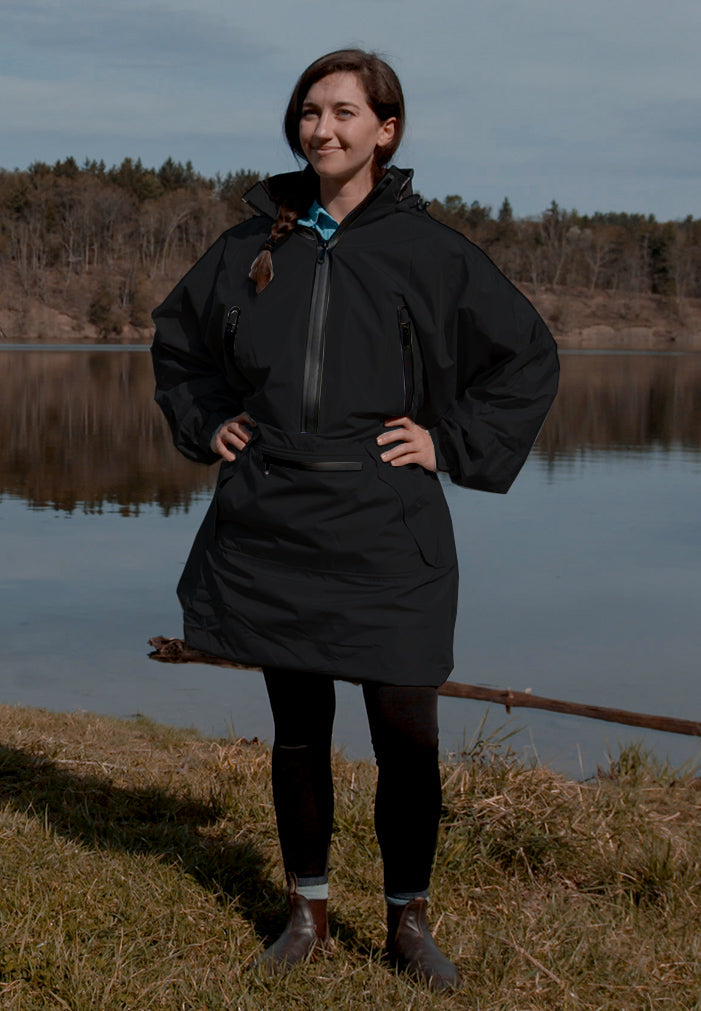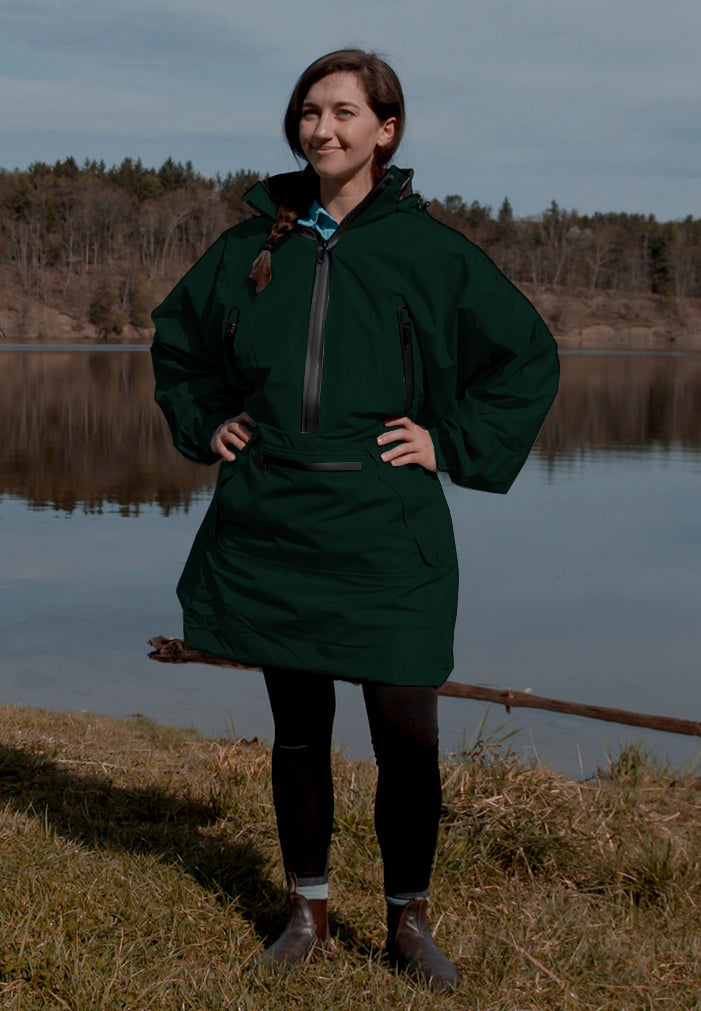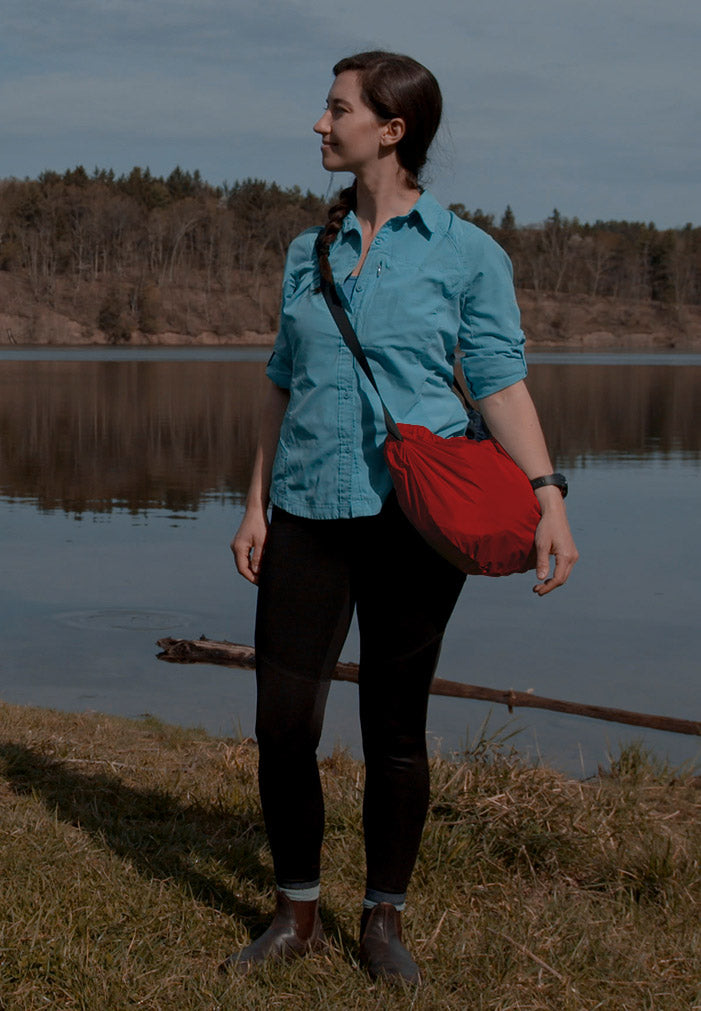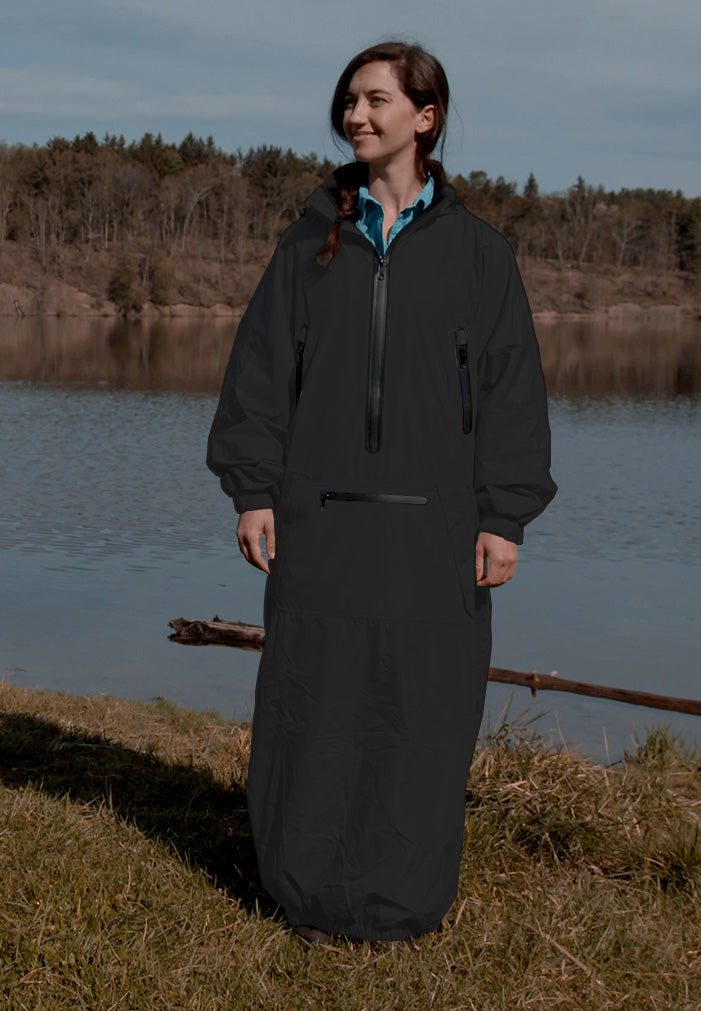 THE BIG GAME WITH THE IWOM CONVERTIBLE JACKET
WATER & WIND PROOF
Our commitment to quality is evident in every detail, from the rubberized zippers to the meticulously heat-sealed seams. These features ensure superior water and windproof capabilities, keeping you shielded from rain, snow, and biting winds. Stay dry, comfortable, and confident in any weather with the IWOM Convertible Jacket 2.5, your trusted ally against nature's forces.
CONTAIN YOUR BODY HEAT
The IWOM Convertible Jacket 2.5 excels in trapping your body heat and shielding you from the chilling outdoor winds. When worn in its full length and layered according to your preference, this remarkable jacket becomes your reliable companion for staying warm and cozy. It creates a protective barrier that locks in your body heat, ensuring optimal insulation even in the coldest conditions. Say goodbye to shivers and hello to unparalleled comfort with the IWOM Convertible Jacket 2.5, your ultimate defense against the elements.
TRANSITION ON THE FLY
Get ready for seamless transitions with the IWOM Convertible Jacket, adapting effortlessly to every situation. When the sun is shining, simply toss it in the back of your car, always prepared for unexpected weather changes. When the temperature calls for a jacket, pull up the bottom elastic band, transforming it into regular jacket mode with the clever hidden design. And when the wind howls or rain pours, effortlessly deploy the bottom portion by loosening the elastic waistband, extending it down to your ankles for maximum protection. With the IWOM Convertible Jacket, you have the power to transition on the fly, ensuring you're ready for whatever nature throws your way.
THE PERFECT AMOUNT OF STRETCH AND HOLD
Experience optimal comfort and functionality with the IWOM Convertible Jacket's innovative waistband design. Offering just the right amount of stretch, it allows for effortless movement during walks and activities. At the same time, it provides a secure hold when the bottom leg coverage is pulled up and discreetly hidden, keeping it out of your way when not needed. Enjoy the freedom to adjust and customize your jacket's style and coverage with the IWOM Convertible Jacket's versatile waistband, striking the perfect balance between comfort and practicality.

ROLL IT UP QUICK & EASY
The IWOM effortlessly rolls into a self-contained stretch pouch, allowing you to transform it into fanny pack mode for easy wear or hassle-free storage. Say goodbye to bulky jackets taking up space or the need to carry a separate bag. With the IWOM Convertible Jacket, you can effortlessly switch between wearing it and compactly storing it in the stretch pouch, ensuring maximum portability and convenience wherever your adventures take you.